Advocate staff photo by Bryan Tuck


From left, Louisiana House of Representatives District 31 candidates Nancy Landry and Don Trahan participate in a political forum along with District 42 candidate Isabella delaHoussaye and District 43 candidates Page Cortez and Patrick LeBlanc on Tuesday evening at the Home Bank building in Lafayette. The forum was sponsored by the Lafayette Chamber of Commerce.

The Advocate
Legislative hopefuls agree on many issues
"Also participating in the forum was District 42 candidate Isabella delaHoussaye, the former mayor of Crowley, who is facing Jack Montoucet, who was unable to attend."
"On health care, the candidates all said they supported a system in which money now going to charity hospitals would follow indigent patients if they choose to go to private hospitals or rural clinics."
"For the amount of money spent on health care in this state, there has to be a better way to deliver the care," delaHoussaye said.
___________________________________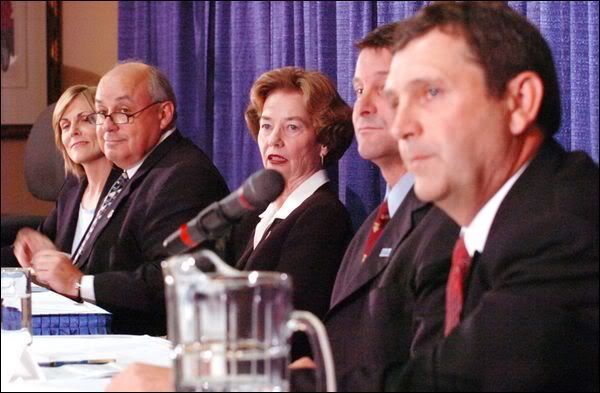 Candidates talk business
State economic issues debated at House forum
"House District 42 candidate Isabella delaHoussaye, R-Crowley, said leaders need to make Louisiana safer from natural disasters in order to attract insurance companies. Shoring up the coastline, rebuilding barrier islands and enforcing new building codes will help."